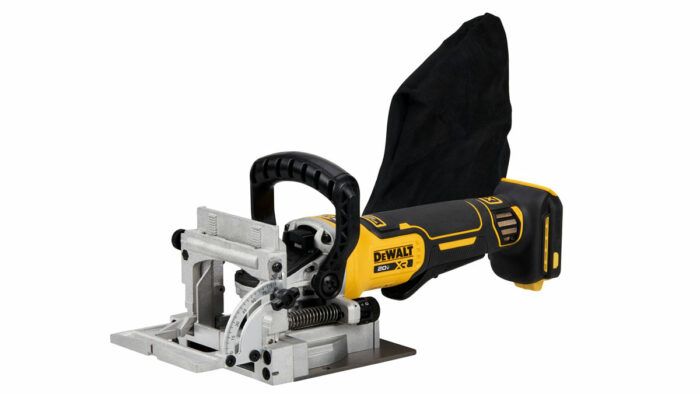 DeWalt announces cordless biscuit joiner
(pictured above)
The DEWALT 20V MAX* Biscuit Joiner (DCW682), part of DEWALT's XRTM premium lineup of tools, delivers up to 300 joints or 600 cuts per charge** for powerful, consistent cutting performance in a wide range of wood-based materials. Users achieve accurate results with #0, #10, and #20 biscuits (all sold separately) using tool-free adjustment features. At just 5-1/2 lbs (tool only), the biscuit joiner is a handy addition to any shop or jobsite.
The DCW682 20V MAX* Biscuit Joiner will be available as a bare tool at the end of May where DEWALT products are sold.
---
Woodpeckers Posi-Loc T-Square
Accurate angle layout on larger panel projects challenges even the most skilled woodworkers. You can try extending lines started with a small protractor, but even tiny errors keep growing the further your line extends. Woodpeckers latest OneTIME Tool, the Posi-Lock T-Square, delivers unparalleled accuracy in your panel layout work. Just snap the head in to the angle you want and strike your line.  The head adjusts from 0° to 70° and locks solidly every 5 degrees (plus 22-1/2° and 67-1/2°), giving you a precise angle reference 12-, 24-, or 32-inches long. No other adjustable T-square gives you the range of angles and the positive indexing you get with the Posi-Lock.
For more information: https://www.woodpeck.com/posi-locktm-t-square.html
---
Kreg Multipurpose Project Blocks
Kreg Multipurpose Project Blocks are the perfect way to support, hold, and work on projects anywhere. These incredibly versatile blocks elevate your material to sit 1 1/2″ above the work surface for convenient sanding, finishing, routing, and much more.
The Blocks feature a GripMaxx™ surface on each face – one side to grip your workpiece, and one side to prevent the Blocks from moving around on your workstation. That's great for tasks like sanding when you don't want anything slipping and sliding.
Elevating the material makes routing edges easier with added clearance for the router bit. The height also gives clamps room to fit the clamp head under the workpiece – which is useful for drilling pocket holes or assembling your project.
When it comes to painting or finishing, use the retractable painting point with GripMaxx™ for a little extra height. Just twist the project block to raise the point to rest your material on – the painting points won't even stick to your material or ruin your finish.
Each purchase comes with a set of 4 pucks, with a collective 200-lb weight capacity, to easily balance your project of choice.
For more information: https://www.kregtool.com/shop/workspace/work-supports/multipurpose-project-blocks/KFS-PUCK.html
---
Garrett Wade finds stash of vintage Stanley rules
Garrett Wade says the company got incredibly lucky when one of their "tool hunters" discovered a cache of special vintage Stanley folding rules. An upgrade of the standard two-foot version, these fully brass-bound tools tend to hold their shape and straightness much better over time. Made in New Britain, Connecticut, when Stanley was at its quality peak, these were trusted measuring tools for cabinetmakers worldwide. They have boxwood and brass construction, with gradients down to 1/32", and are 2 feet long when fully open. There are two models here: the Stanley #62 and the Stanley #36, which also includes a small caliper on one end. Other more minor variations are to be expected from tool to tool, but these are all in exceptional condition and will attract collectors and users alike. Quantities are extremely limited.
---
Felder Group announces World4Machines.com
All proceeds are 100% yours! – A new feature has rolled out on Felder Group's used machine website: World4Machines.com, that allows login users to upload their used machine(s) on to the site. In previous years customers would have to contact Felder to make an advertisement placement on their used machinery site with a payment of 10% of the final purchase. Now, with new update, sellers keep 100% of the final purchase and are not limited to selling only Felder Group Machinery. The process is fast, easy and gives you full control to add pictures, text, and contact info for buyers to get in touch with you.
---
City of Boston's Mayor Michelle Wu to Address Graduates at North Bennet Street School Commencement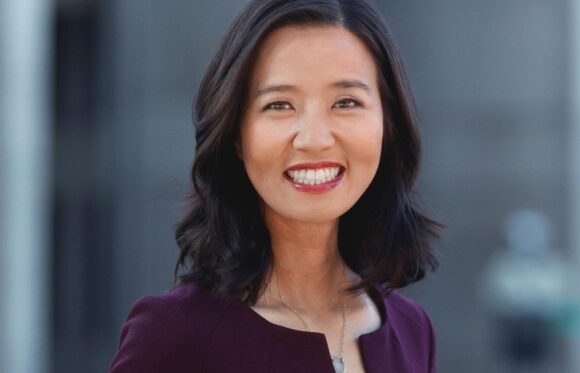 Boston MA, June 10, 2022—North Bennet Street School (NBSS) is pleased to announce Boston Mayor Michelle Wu will deliver the commencement address to our newest graduates at Old North Church on Friday, June 10, 2022.
Mayor Wu has long championed investments in education, notably within the Boston neighborhoods from which many NBSS students and alumni hail. Additionally, through her time as City Councilor and now as Mayor, she has been a driving force behind creating greater access and equity within Boston, helping people of all backgrounds find pathways to enrich their lives.
NBSS holds similar values. From its founding in 1881 as a settlement house, the School today continues a tradition of serving the community. Currently, the institution provides meaningful training to first-generation trade school students, returning veterans, career changers, and many others. NBSS also works directly with Boston Public Schools, from partnering with Madison Park Technical Regional High School on a five-week summer program, to having its Piano Technology students tune and repair instruments throughout the district.
Mayor Wu welcomed the invitation to speak at NBSS. "I'm thrilled to be joining this year's graduating class from the country's oldest trade school," said Mayor Wu. "At a time when we're experiencing a national shortage in skilled tradespeople, it's an honor to be celebrating students who have overcome so much to develop the knowledge and abilities to be able to give back to our communities for years to come."
NBSS president Sarah Turner echoes the Mayor's sentiment. "We couldn't be happier to have Mayor Wu address our graduating class, who have made the choice to redirect their lives through training at NBSS. As we embark on the next chapter of our history—reaching towards our 150th in the next ten years—I can hardly think of a better person to speak to the opportunities that await our graduates, and the School as a whole."
The 2022 Commencement will see nearly 100 students join a community of 3,0000+ alumni located around the world. As of this writing, over 70% of these new graduates are already employed within their chosen industry. The event is closed to the public, but a livestream will be available via YouTube.
---
If you have a tool release or news item you'd like considered for new, weekly roundup of woodworking news send it to [email protected].